Rotor Spinning Machine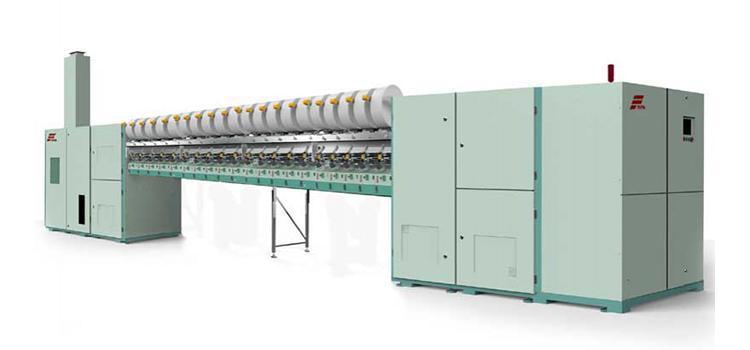 Introduction
The rotor spinning machine is used in the production of a variety of materials, including corduroy, denim, Khaki, yarn-dyed fabric, printed cloth, cotton blanket, bath towel and decorative cloths. The suitable yarn density is tex (Ne) 120-15 (5-40). The treatable fiber length is ≤60mm. The twist of the yarn t/m is 200-2000.
The number of spindles is less than 600. And the maximum speed is 105,000 rpm.
Specification
| | |
| --- | --- |
| Item | Technical parameters |
| Rotor speed (r/min) | 45000-120000 dual side independent transmission, variable frequency adjustment |
| Yarn insertion speed (m/min) | Maximally 200 |
| Guide angle (degree) | 30°-42° stepless regulation |
| Opening roller speed (r/min) | 6000-11000 dual side independent transmission, variable frequency adjustment |
| Gas displacement of the suction fan (m3/h) | Maximally 9000. The gas displacement with be changing with the number of spindles and adjusted by frequency converter. |
| Suitable yarn density tex(Ne) | 120-15(5-40) |
| Suitable fiber length (mm) | 60mm |
| Draft ratio | 20-280 |
| Twist range (t/m) | 200-2000 |
| Silver feed (ktex) | 2.5-7 |
| Tension draft ratio | 0.91-1.02 (stepless regulation) |
| Opening roller diameter (mm) | 65 |
| Rotor diameter (mm) | 33/36/40/46/54/66 |
| Spindle distance (mm) | 230 |
| Max number of spindles | ≤600 |
| Number of spindles at the middle of the 1st pitch | 20 |
Features
1. Spinning apparatus
1) The spinning apparatus is the core unit of the rotor spinning machine. The channels are improved by collecting and analyzing experimental data, thus ensuring the spinning quality is better.
2) This spinning apparatus is equipped with an impurity removal system to efficiently remove residual fiber or dust in the raw material in order to save materials and labor costs.
3) The channel openings are inlaid with a high intensity ceramic in order to reduce cavity wear caused by the fibers, and thus, prolong the service life.
2. Broken ends connecting system
1) The broken ends connecting system is equipped with a pneumatic lifting device. The broken ends of the yarn can be reconnected only 0.1 seconds after the breaking occurs. This device has also gone through extensive testing in order to ensure the reliability.
2) When the broken ends are reconnected with the yarn ends, the yarn insertion is accomplished first by using a roller. Yarn insertion will then be carried out by the winding roller. This avoids any influence of the connection quality caused by the spindle size.
3) The professional mathematical model and the stepping roller achieve cotton feeding, with the feeding quantity and time accurately controlled by this system.
3. The RS30C rotor spinning machine achieves a traverse guide via servo drive. The yarn insertion speed is up to 200m/minute.
4. This spinning machine uses a micro meter feed mechanism driven by a servo motor, so that roller wear caused by the yarn is reduced.
5. The reasonable rack height reduces operation heights. This equipment can also be equipped with a maximum of 1200mm spinning cans.
Outline dimensions