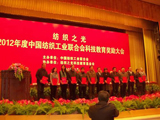 On November 19, 2012, our chief engineer Zijun Li attended the awarding ceremony of the State Scientific and Technological Award held by China Textile Machinery Association at the Great Hall of the People. At the ceremony, our RFTL60 high speed terry loom was honored with the third-level prize for its contribution in technological innovation and creating market value.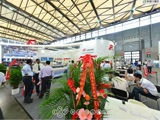 The ITMA ASIA+CITME exhibition is a combined show, featuring the unique strengths of ITMA brand and China International Textile Machinery Exhibition. It is a move supported by global major textile machinery associations including the CTMA, JTMA, and CEMATEX, as an attempt to safeguard the interests of the textile machinery manufacturers and customers around the world as well as to promote the quality of textile machinery exhibitions.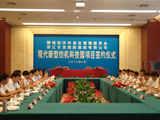 The local government of Liaocheng Economic Development Zone formally awarded the project of Rifa cutting edge modern textile machinery technology park to Rifa Holding Group. Jie Wu, the chairman of the board and chief executive officer of Rifa Holding Group, and Haiyun Yu, the vice president, along with Xuping He, the president and chief executive officer of Rifa Textile Machinery, attended the signing ceremony.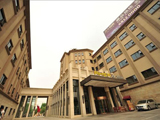 In June 2012, the ITMA ASIA+CITME exhibition was held in Shanghai. To avail itself of the hard-earned opportunity, Rifa Textile Machinery threw a client appreciation dinner in the evening right after the opening ceremony of the exhibition.
The banquet was held at the Rhea Lakeview Hotel, a five-star, Victorian-style hotel, cozy and comfy. When the night fell, clients after a hard day's work arrived here to attend the dinner party.