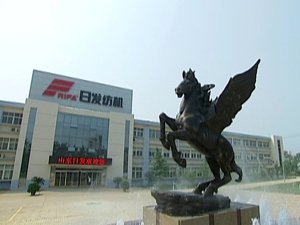 RIFA Textile Machinery Co., Ltd. is a China-based manufacturer of dedicated weaving equipment. We are a joint venture funded by parties such as the RIFA Textile Machinery Holding Group, CHANGRUN Investment Holding Group, and various private investors. Incorporated as one of the earliest shuttle-less loom producers in the domestic industry, we offer only the finest in air jet looms, rapier looms, and terry rapier looms. These hi-tech machines are the result of the flawless integration between optical, mechanical, and electrical elements.
Nearly 2 decades of manufacturing experience has gained us recognition as the national production and development base for shuttle-less looms. The quality of our assembled units is on par with international standards. Our flagship products include the RFJA series air jet loom, RFRL30/GA731-II rapier looms, and RFTL60/HST40 terry rapier looms. The RIFA sales network covers more than a dozen countries around the globe and over 20 provinces nationwide. More than 10 thousand sets of looms have been distributed in regions including Europe, Asia, and Africa.
Our versatile looms have filled a market gap in the domestic industry. These machines are compatible with over 20 types of materials including flax, jute, silk, ramie, denim, towel, cotton, slub yarn, worsted yarn, filter cloth, jacquard pattern, trademark pattern, special mesh fabric, large-width upholstery fabric, etc.
A dedicated workforce of more than 300 employees provides us with the manpower needed to satisfy all customer demands. Our professional staff consists of well-educated individuals in the prime of their lives. Approximately 87.9% of our employees are under 40 while 55.7% possess the equivalent of a college degree or higher. We have over 70 experienced technicians, 30 of whom hold medium or high level positions. Our tech centre is recognized as a "Rapier Loom Engineering Development Centre of Shandong".
With internationalization as an integral part of our long-term agenda, we strive to provide customers everywhere with modern equipment and digital technology. In order to achieve this goal, our company has obtained the proper rights for import and export while successfully passing the ISO9001:2000 Quality Management certification. RIFA is the proud recipient of numerous awards and honors, presented by state, provincial, and local authorities. We are widely recognized as a "National Hi-tech Enterprise".
Our company advocates virtues such as pragmatism, perseverance, and open-minded thinking. With customer satisfaction as our highest priority, we strive to fulfill market demands. We will forge a solid reputation with the sincerity of our services, the quality of our products, and the integrity of our conduct.