RFRL20 Rapier Loom
The RFRL20 rapier loom represents the mature technology that has been applied in various other types of Rifa weaving machines. It is a high speed weaving machine designed for energy efficiency, low vibration, and reduced noise. Directly driven by a patented switched reluctance motor, the loom can freely change its weaving speed to accommodate different yarn and fabric types, whereby saving fuels by 15% than a conventional loom under the same weaving conditions. Additionally, the motor gives large starting torque, great braking performance, and stable functioning. It can achieve step-less speed regulation.
Design and Application
The shedding, weft insertion, warp let-off, and cloth take-up mechanisms have been specially designed to make various fabrics and cloth, such as denim fabric, grey cloth, wool fabric, corduroy, cotton fabric and blended fabric(for upholstery use), lightweight and medium-thick industrial fabric, flax, and fiberglass.
Technical Parameters
Item
Main Parameters
Nominal Reed Width (cm)
Nominal reed width: 190, 210, 230, 260, 280
Effective reed width: 0~40cm taken away from the nominal reed width value.
Weaving Capacity
Cotton or synthetic fiber yarn: 500tex(1.2Ne)~5tex(120Ne)
Slub yarn or worsted yarn: 680tex(1.5Nm) ~10tex(100Nm)
Filament: 10dte(9Td) ~1650dte(1500Td)
Weaving Speed
Weaving speed: 380~450r/min
Maximum Weft Insertion Rate: 1200m/min
Weft
4-8 colors high-speed weft selection device
Weft Accumulator: fixed drum weft storage device or electronic drum storage device
Weft cutting: mechanical scissor
Power
Switched reluctance motor for energy efficiency and high performance
Shedding
Dobby shedding system( with maximum 20 heald frames) or electronic jacquard
Beating
Sley type beating device with conjugated cams on both sides
Weft Drawing-in
Conjugate cam
Warp Let-off
Continuous AC servo motor
Warp flange diameter: φ800mm, φ1000mm
Cloth Take-up
Continuous AC servo motor
Maximum cloth roll diameter: φ550mm
Weft density: 5-120picks/cm
Selvage
Mechanical device for selvedge twisting
Selvedge cutting device: mechanical cutting device as standard
Temple(weaving): independent temples on both sides of the loom
Lubrication
Oil-bath lubrication or press the grease into the bearing with your hand
Stop Protector
Warp Stop Protector: with 6 rows of electrical contact points
Weft Stop Protector: It is essentially a highly sensitive electronic-type piezoelectric detector that can prevent undesired double insertion(weft).
Loom Stop Display: When the loom stops, the 4 color LED light will be turned on. The reason which causes the loom to stop will be displayed on the control panel.
Automatic Functions
Automatic machine stop at the designated point, slow-speed weft-finding, cloth-fell compensation, warp tension adjustment, automatic detection, reset, fault display
Electrical Control
Multi-functional CPU control system, automatic control, monitoring, diagnosis, information display, big screen display, two-way communication, push-button operation, timely adjustment, and setting parameters and programs.
Features
1. Based on computer analysis and state-of-the-art 3D modeling, we have brought out the optimized rapier loom design where the beam joint and cloth take-up roller set-up have been effectively designed, the weft beat-up device is lightweight and well balanced, and the moving parts are precision made. All those said features make low operating noise a possibility.
2. To achieve digital control, the loom adopts multi-core, multibus computer control technology. Its high-performance CPU not only manages and monitors all the electronic control units within the computer, but also controls external devices such as the dobby and jacquard via the input port and output port. The unique designed USB port allows users to conveniently set weaving parameters and procedures as well as facilitates data transmission. The control system is able to gather information about operating conditions, monitor the running state, and exchange real-time data to provide for automatic adjustment, fault detection and diagnosis.
3. A super motor delivers the power necessary for the rapier loom to complete such motions as weft finding and slow weaving. It incorporates highly automatic numeric control technology which enables various automatic functions, including automatic cloth-fell compensation, cloth-fell finding, warp tension adjustment, network monitoring, and fault diagnosis. Those powerful functions insure the loom good quality.
4. The friendly human-machine interface makes for convenience, high efficiency, and large amount of data input and output. Its large display screen facilitates two-way communication so that users can set as well as adjust processing parameters and manufacturing procedures. The unique parameter adjustment device makes machine operation and re-setting easier than before. It also greatly reduces changeover time.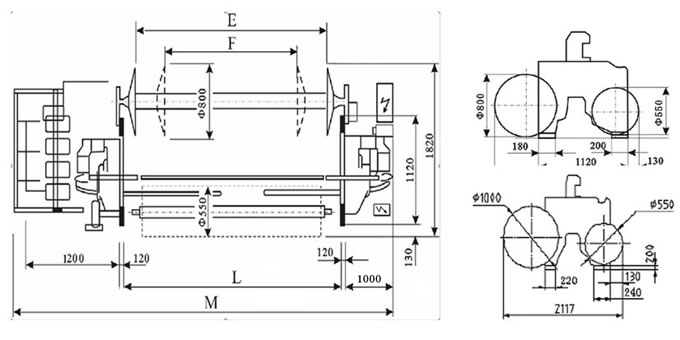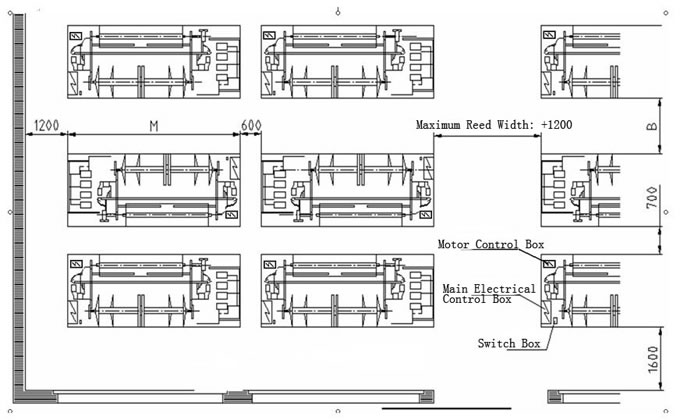 | | |
| --- | --- |
| Model NO. | RFRL20 |
| Certification | ISO |
| Type | Weaving Machinery |
| Export Markets | South America, Southeast Asia, Mid East, Eastern Asia |
Additional Information
| | |
| --- | --- |
| Trademark | RIFA |
| Packing | Wooden Pallet Package |
| Standard | Reed width: 190~380cm |
| Origin | Liaocheng City, Shandong Province, China |
| HS Code | 84463020 |
| Production Capacity: | 1000sets/Year |
Related Names
Yarn Weaving Device | Air Jet Loom Maker | Textile Weaving Technology